I like that my last knitted object of 2012 was something for me. I don't have a lot of things I knit for myself (although I think my first 2013 items will be mittens). I made an ear warmer out of some Malabrigo worsted my friend Thora gave me. It's beautiful and soft, but it was a little shlubby, and I couldn't figure out what to do with it. Turns out it makes a beautiful earwarmer, and I had just enough in the hank:
Yes this is me in an Adrian Peterson jersey. He's da bomb. Don't you judge me.
It's hard to see the flower, but I ended up finding a
knitted one
, which was relatively easy. Not as beautiful as the intricate "sc, hdc, sc, dc" ones, but I just didn't have time to learn how to crochet if I wanted to get this done...this year.
I did manage to knit THIS much this year (Since I go back to 0.00 tomorrow):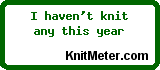 So that makes me happy. It's respectable for me. Here's to 3 miles in 2013!
Knitted resolutions for 2013--MORE SOCKS! I think I knit one pair of socks this year, and they were for someone else. I have tons of beautiful sock yarn (and patterns to go with it) from my
Yarnista sock club
. I need to use some of it. I'd also like to do a sweater, and keep using more of my stash yarn. I've been doing a good job of going there first lately, and I really do have some beautiful yarn laying about. I need to use it more often.
Other resolutions: I will yell less. I will get my laundry room cleaned and organized. That's it. :)
2012 in terms of the world and my friends and family around me, was kind of suckish. I sincerely hope our US/World leaders get their shit together this year, and the people around me that are struggling can have things turn around for them.
As for 2012 itself, it personally wasn't all that bad. We still struggled financially, and I don't think that's going away anytime soon. But I found a job I love, I'm going to grad school next year, we now live in a house that we all adore and are proud to come home to. No one got seriously ill. Anna got her crap together at school (although she is backsliding, spending too much time with her "boy-who-is-a-friend", but we're working on it.) It's not a bad little existence we have carved out here. I'm much more hopeful than I was last year at this time. I did lose one friend due to personal differences that I won't even go into, but I did gain some friends. When your friend meter is in the positive numbers, filled with positive friends, "It's a good thing".
So 2012 will likely go out quietly at my house. We will have a nice dinner, and a toast at midnight (which reminds me, I need to go replace those champagne flutes that broke earlier this year...). Happy New Year! :)